The Avon CTF12 CN/CS/P100 canister is a filter designed to protect the user against Riot agents. It was designed to be used in conjunction with the Avon FM12 or any other Mask capable of accepting a 40mm (DIN) filter.
Note: These filters ARE NOT designed for use as NBC or CBRN protective equipment, they are designed for the filtration of Riot control agents (E.G. CS Gas), for your own safety, please do not use these filters for anything other than their intended purpose.
The Avon CTF12 Riot Agent Filter is a 40mm (DIN) filter canister designed specifically to protect against tear gas. It is currently (as of 2015) in use by various law enforcement agencies cross the world that employ respirators with the standard 40mm NATO thread.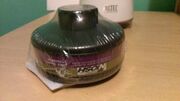 Difference with Standard P100 Filters
Edit
One of the questions frequently asked about Riot Agent Filters is "What's the difference with this filter compared to normal P100 filters?". The answer to this is that Riot Agent Filters have a thin carbon bed that comes after the P100 filter paper. The purpose of this layer is to absorb the vapors that are released by the trapped particulates in the first layer (P100 fiberglass paper). This is necessary as unlike dust or some aerosols, smoke particulates of Riot Agents tend to release noxious vapors that can penetrate P100 filters without a carbon bed.
Do not use Riot Agent-only filters for applications which require NBC combination filters. Although it has a thin bed of carbon for absorbing vapors released by trapped particles, this type of filter is not designed to protect against chemical vapors and will be quickly saturated if used incorrectly for protection against this type of hazard. If you need protection against vapors and aerosols that vaporize when trapped, use the correct type of combination filter (NBC Canister) for that particular application as per GOST, MSHA, OSHA, NIOSH and other related safety standards.
Performance and Physical Description
Edit
Featuring a filter system that is 99.7% efficient against 0.3-micron particles, the CTF12 gives a full 24-hour protection against CS/CN/OC gases. These filters are commonly retained and used long after it has been opened. It features a screw-on cap for the outlet aperture and a pull tab for the inlet aperture. The body of this canister is made of Noryl, while another version of the CTF12, which features a contoured intake surface for C50 gas masks, uses a polyphenylene ether polystyrene blend (engineering plastic). Both materials are extremely resistant to impacts, dents, scratching, cracking and allow for easy decontamination.
CTF12 canisters have a shelf life of 5 years.
References:
Edit
http://www.avon-protection.com/Downloads/2011_us/CTF12_datasheet.pdf