The Norwegian A-62 were made during the 1960's. Very little information is known on these masks, this page will try to explain these masks as well as possible. If you have extra information, please do feel free to contribute if you have any extra information. 
The A-59 was the predecessor to the A-62. The A-59 could only make use of 'Sardine Can' filters, some A-62's made use of the 'Sardine Can filter'. The picture on the left, an A-62 which has been issued with Sardine Can filters.
The Model name of these filters are unknown. 
The filters came with  a small piece of special tape, which was used to connect the Filters to the mask. The instruction manual that came with the mask describes in detail how to make use of the tape. The reason for the A-62 to use the Sardine Can filter, is probably because there were different models of the A-62, but these have never been detailed by Helly Hansen (The creator of the A-62). The A-62 mainly used a standard 40 mm filter tread. The name of the most common filter is unknown.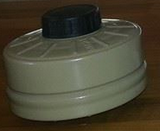 Some of these masks have the markings "A-59" at the top of the mask, but instead of the 'Sardine Can' filter, it has a standard 40 mm thread and an standard looking filter (Unknown Model Name).
The A-59 and the A-62 look quite similar, but they do have some differences when it comes to its parts (Example: Exhale valve). As previously stated, there may have been different types of A-62 but this has never been confirmed. The biggest difference from the Common A-59 and the common is the filters, the A-59 used side filters nicknamed Sardine Can filters, and the A-62 used a standard 40 mm thread with a normal can filter.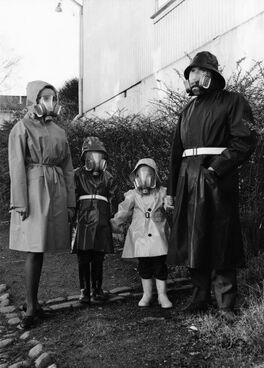 The Norwegian A-62/A-59 masks were issued in the Late 60's and the Early 70's. This was because of the growing threat of nuclear war between the USA and the USSR. Therefore the Norwegian Government ordered Helly Hansen to make around 600,000 Gas masks for the civilian population of Norway. Norway wanted to make their own masks because they deemed the Gas Masks from the other NATO nation to be substandard. The Norwegian masks were supposed to be 100 % secure and sealed, and the filters were designed to protect against every known Gas and Nuclear Dust. They were sold for a decent price so every family in Norway could protect their Family in case of War.